May 25, 2022
Advanced Ag Products participated once again in the National Hog Farmer's New Product Tour.  It once again has gone virtual as part of the Global Hog Industry Virtual Conference and World Pork Expo.  
The New Products Tour allows companies like AAP to showcase their latest innovations to help producers save money and improve efficiencies which in the current times, is greatly needed.  
During the Global Hog Industry Conference, a panel of pork industry experts review products, keeping in mind how each would benefit producers and the industry.  Company representatives can either present a sales pitch to the panel or produce a two-minute video to the judges – sort of "Shark Tank" style with a LIVE short Q&A session with a representative from each company. 
Online voting for Producers Choice Top Product of the Year will take place on the National Hog Farmer site, while in-person voting will take place in the National Hog Farmer Booth (V625) at the 2022 World Pork Expo.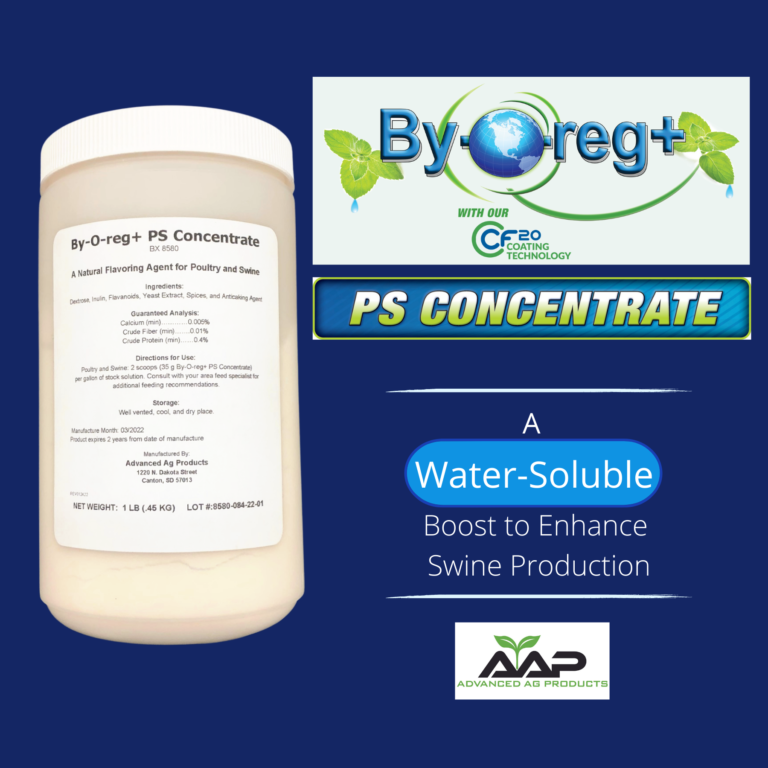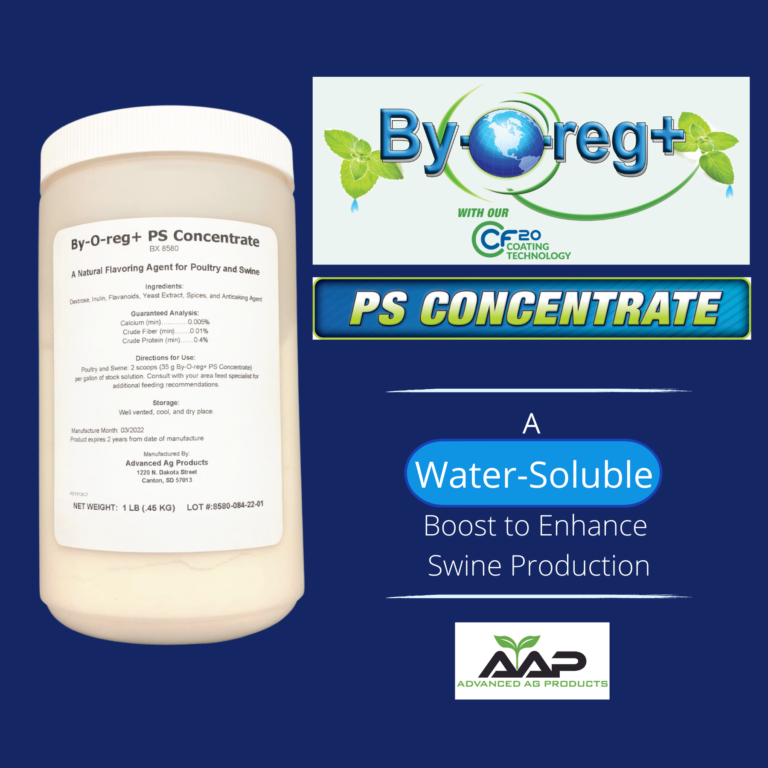 Our entered product is By-O-reg+ PS Concentrate. 
As new rules and regulations come about, Advanced Ag Products has taken their granular high quality ingredient feed product, By-O-reg+ and adapted it to a form that is user friendly, water-soluble, and able to go through a medicator for the pork industry.
By-O-reg+ PS Concentrate is a user friendly, gut health supplement that will help pigs from the beginning even when intake is limited. By-O-reg+ PS Concentrate works to combat health challenges, promotes animal performances, and minimizes stress during different phases of the production cycle. 
By-O-reg+ PS Concentrate uses high quality ingredients as well as their CF20 coating technology which is not only all natural but protects essential oils allowing for a targeted release in the small intestines. This product aids in maximizing pig flow, minimizing feed cost, and reducing nonproductive days, all while assisting in the creation of a healthier, heavier, more efficient animal.
Watch Advanced Ag Products New Product entry promo video below and help us win by clicking the "vote now" button.